ADAMSON
Letcher County, Kentucky
Location: About 600 feet from Pike County near Highway 805.

Named for:Unknown.


Railroads: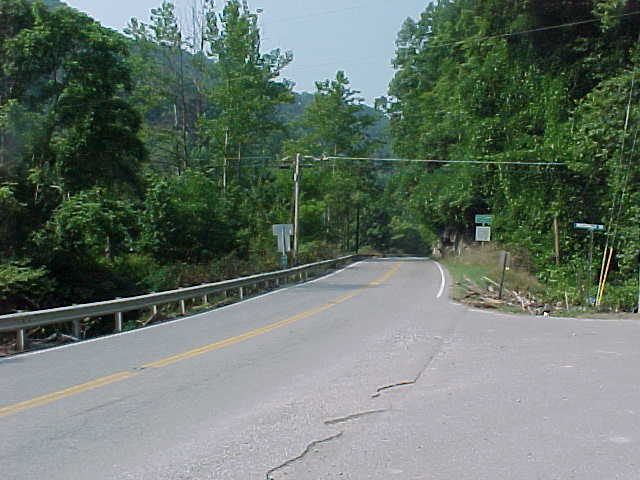 (click on photo for enlarged view)
Adamson is consider a "place" in the GNIS database. The photograph above was taken on highway looking southwestward from Pike County viewing across a small stream (see flood debris near the power line anchor) . I believe this small stream to be the county line. This point is about six miles Northeast of Jenkins Kentucky on highway 805. Note street sign marking the road on the right. Adamson, the "place" is about 500 feet westward (away in the photo) to a narrow road on the left and then across a major creek about another 300 feet. I did not drive into the area as it appeared to be private land and a dead end drive.
My guess is that this "place" is named after a railroad siding that existed here back in the early 1900's. This railroad served the coal mines in the area. Could have been named after an railroad employee or possible a mine owner. I have no information on this. The book, Kentucky Place Names does not list Adamson. Perhaps someday, the author will update the book and will list Adamson and its origin.
After taking the photograph, I stopped at the City Complex in Jenkins. The receptionist/dispatcher was on the telephone and the mayor assisted me. He had lived in this area most of his life (est 40+) and neither he nor the dispatcher had heard of or knew where "Adamson" is/was. After viewing my map of Letcher county (taken from the internet), that shows Adamson, he concurred that where I described must be the area. While the mayor and I were talking, someone called in. Evidently that person lived at or very near the area, and the dispatcher asked and the person confirmed that it was called Adamson. I am not aware if there are improvements to designate the location.
Adamson shows on some maps, (Rand McNally Road Atlas), but does not show on the official Kentucky Highway Map.
Maybe someday, you will be in area and explore this more. If you do, get pictures and send me your findings. One thing for certain, there is no sign stating "Entering " or "Leaving" Adamson.






END